Georgetown University Common App Supplemental Essay
Georgetown University may be well known for its School of Foreign Service, but the university also has 3 other colleges that are equally respectable.
Along with the School of Foreign Service, Georgetown also has the School of Nursing & Health Studies, the School of Business and of course, the Georgetown College. All prospective students have to submit a personal statement, a short essay and a supplemental essay specific to the school they are applying to.
All Applicants
Each applicant also has to submit short essay on the following prompt: "Discuss the significance to you of the school or summer activity in which you have been most involved."
Georgetown College
"Please relate your interest in studying at Georgetown University to your goals. How do these thoughts relate to your chosen course of study? (If you are applying to major in the FLL or in a Science, please specifically address those interests.)"
School of Nursing & Health Studies
"Describe the factors that have influenced your interest in studying health care. Please specifically address your intended major (Global Health, Health Care Management & Policy, Human Science, or Nursing)."
School of Foreign Service
"Briefly discuss a current global issue, indicating why you consider it important and what you suggest should be done to deal with it."
School of Business
"The McDonough School of Business is a national and global leader in providing graduates with essential ethical, analytical, financial and global perspectives. Please discuss your motivations for studying business at Georgetown."
For those of you interested in applying to Georgetown, remember the application is only available through the university's platform. Read the full application files of current Georgetown students and find out what it means to be a Hoya! Unlock all of 5 student profiles in one go with our curated package!

Applying to college?
View the app files and essays of accepted students.
LEARN MORE
Our premium plans offer different level of profile access and data insights that can help you get into your dream school. Unlock any of our packages or search our undergraduate profile database to find specific profiles that can help you make an informed choice about where to apply!
Source: Georgetown
About The Author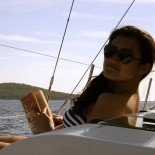 Frances Wong
Frances was born in Hong Kong and received her bachelor's degree from Georgetown University. She loves super sad drama television, cooking, and reading. Her favorite person on Earth isn't actually a member of the AdmitSee team - it's her dog Cooper.
Gone are the days when students aspiring to America's best colleges agonized over a stack of distinct but largely duplicative forms. This is the age of the Common App, an innovation that saves students time and has the happy side effect of swelling applicant pools, giving schools the illusion of rising selectivity without the reality of improved academic offerings.
Charlie Deacon, gatekeeper at Georgetown University for the past 38 years, is determined to resist this trend by continuing to fill the freshman class with students of sufficient dedication to slog through a six-page, two-part application form that is accepted nowhere else.
To Deacon, the Common Application is part of a larger problem: the admissions bubble, a geometric increase in college applications that he likens to the millennial housing market, in an admissions industry that increasingly resembles big business.
"We don't have the Common App because we think that each person is unique and each school is unique," said Deacon, dean of admissions at Georgetown. "We don't want people to apply for the wrong reasons."
Deacon and other industry leaders gathered Thursday in St. Louis for an annual conference of the National Association for College Admission Counseling, where vendors hawk databases of top-scoring high school seniors and the latest in student recruitment intelligence.
Few of Deacon's colleagues publicly share his views. Many admire his pluck.
"It's a business. That's a fact now," said Greg Roberts, a onetime Deacon protege who directs admissions at the University of Virginia. "It's a very different field than it was when Charlie started, or even when I started."
Sticking to his guns

Deacon took over Georgetown admissions at a time when more than half of applicants gained admission and the school's chief competition came from neighboring George Washington and Catholic universities.
Energetic and affable, Deacon helped steer Georgetown's ascent from a provincial to national university, building a cross-country network of alumni and recruitment to mirror those of the Ivy League schools. In 1979, Barron's elevated Georgetown to its list of "most competitive" colleges.
Today, Deacon contends that most of his peers use the Common Application to inflate their numbers. The form encourages the noncommittal applicant, a drawback acknowledged by many in the admissions field.
"Unfortunately, what the Common App does is, it stimulates a lot of frivolous applications," said Susan Tree, director of college counseling at Westtown School, a Quaker boarding school outside Philadelphia and an advocate of the Common Application.
Applications to many elite schools have doubled in the past decade. One applicant in five now applies to seven or more colleges, a number once thought excessive.